Shunyo SH-6328MC 6L Computerized Multi-function Steam Cooker (Stainless Steel)
Highlights:
Computerized controlling system with LED indicator

Removable quality stainless steel cooking pot

Fully Automatic Control

Multiple Protections

Energy Saving

Ceramic Pot for Stewing

Quality stainless steel steamer rack and steamer pot
The SHUNYO SH-6328C Computerized Multi-function Steam Cooker is a product your kitchen needs to have, it steams all types of food to absolute perfection while keeping your family healthy. It's 2 tier stainless steel steamer is designed to cook anything, ranging from vegetable to meat. Its presets also enable users to quickly cook their meals without any effort, and with its glass lid, users can observe and watch their meals cook to perfection.
Stainless steel
The beauty and elegance of a stainless steel construction will definitely put anybody in the mood to start cooking up a storm. The housing and steamer are built with this material for an improved lifespan. It also prevents any corrosion from occurring, keeping your family's meal safe and healthy.
Removable layer
With the removable layers for your convenience, making cleaning and sorting your cooking utensils without a problem.
Glass lid or look through
While cooking, it's best to be able to see what is happening underneath the lid. So we had paired their steamer with a see through glass lid or if you prefer, a stainless steel looks through lid instead. This will let you observe and monitor the state of your meals without constantly disturbing it.
Larger capacity
Now with our innovated design for your convenience, we made our product with diameter up to 32cm! So that you will be able to cook more, save time, effort, and energy.
Various setting
This steamer set comes with 2 tiers, ideal for separating different types of meals. Furthermore, this cooker also has various settings to cater to a different style of cooking. These settings include steam, cooks, stews, steamboat and plenty more to simplify and quicken cooking processes.
Stew Bowl
Cook with much ease as we provide extra 3 stew bowl for your convenience, same both of your time and efforts and enjoy your decent meal !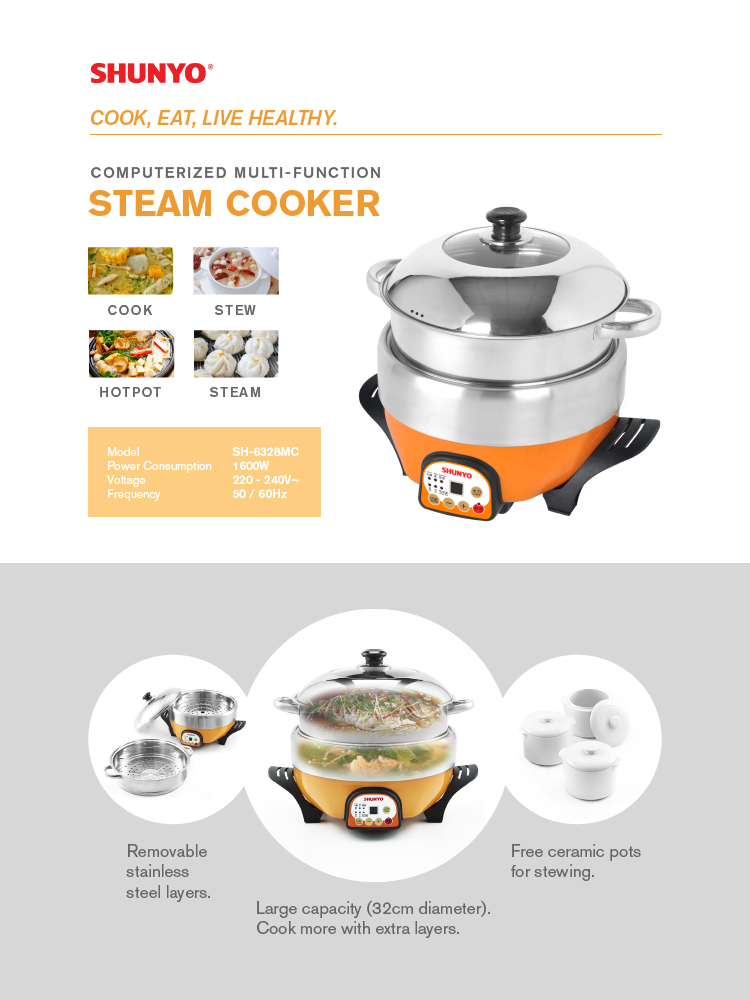 ---