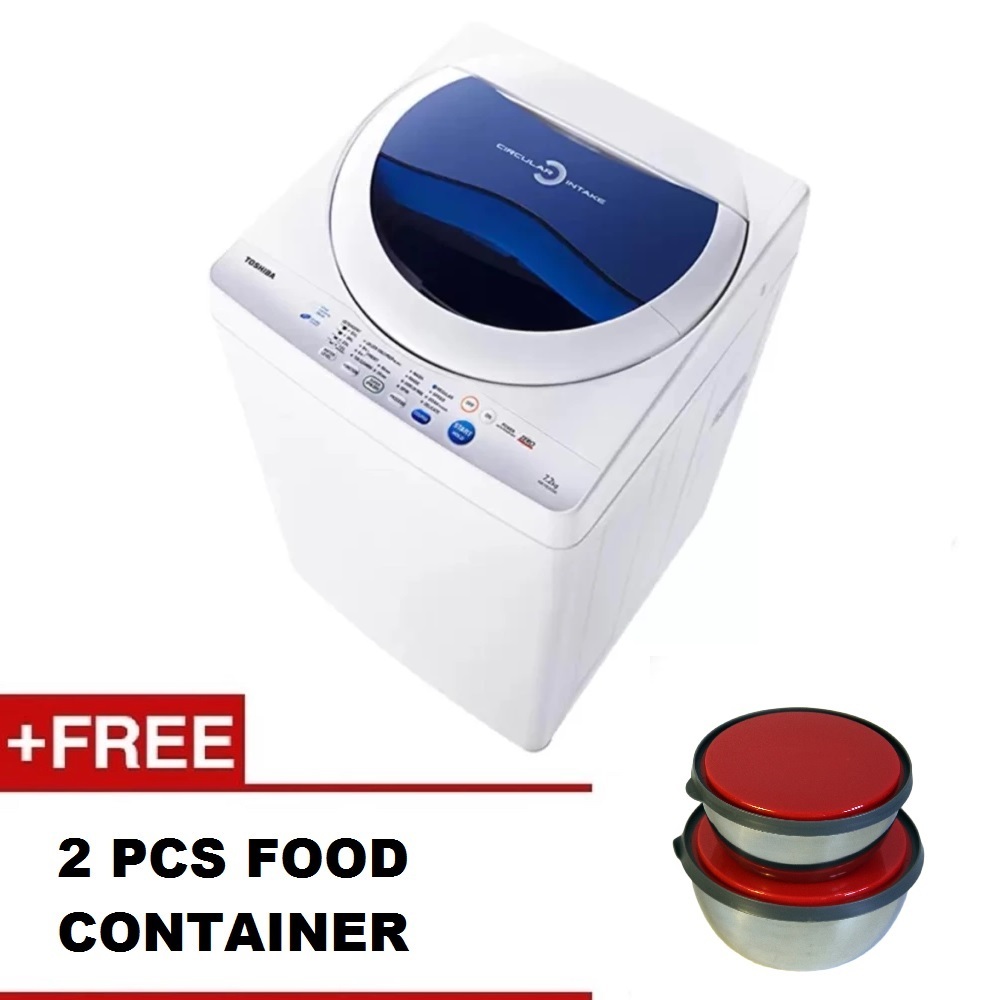 Toshiba AW-F820SM 7.2KG Automatic Washing Machine FOC Food Container (2pcs)
Highlights:
7.2 kg Capacity

Star Crystal Drum

Zero Standby Power

Resume Function
Lid Lock & Child Proof
Fuzzy Logic Control
Circular Air Intake
Circular Air Intake function with all-round circular air inlets allow more air flow into tub for maximum drying efficiency during spin-drying.
Hydro Power Wash
2 water jet outlets generates a big water circulation & dissolves detergent water evenly into the fabric.
Zero Standby Power
Conventional washing machines use electricity even on standby mode, when the wash/spin cycle is completed. With Toshiba's Zero Standby Power technology, no electricity is used during standby mode. This new technology can save you up to 20% of energy.
Resume Function
Lid Lock & Child Proof
Fuzzy Logic Control
- Main
Net Wash Capacity (kg)
7.2
Weight (kg)
27
Color
Blue
Warranty
2 years General Warranty, 3 years Control Panel Warranty, 7 years Motor Warranty*
Inverter
Non-Inverter
- Dimension (mm)
Width
555
Depth
590
Height
905
- Power Supply
Voltage
230 - 240
Frequency (Hz)
50
- Input Power (Watt)
Wash
425
Spin
400
- Water Level (Liters)
Low Level
12
High Level
53
- Washer
Condensed Bubble Wash
Yes
Hydro Power Wash
Yes
Pulsator
Powerful Hybrid
Stainless Steel Tub
Star Crystal Drum
Cassette Lint Filter
Yes
- Spin
Super Spin Dry
Circular Air Intake
- Safety & Functions
Pre-Set Timer
Yes
Resume Function
Yes
Zero Standby Electricity
Yes
Lid Lock and Child Proof
Yes
- Washing Courses - Standard
Regular
Yes
Speed
Yes
Soak
Yes
Delicate
Yes
- Washing Courses - Special
Tub Clean
Yes
---